2016 had its fair share of ups and downs, but one thing is for certain. The power of the web and digital marketing is growing exponentially, which can be great for some and daunting for others. If you're slow off the starting line for transitioning into the digital realm, don't panic. There are a lot of simple ways to bring your brand to the digital landscape, going beyond the traditional website format and a handful of social posts. Let's take a look at some of the top web trends that picked up quite a bit of momentum in 2016, and how they will play a role in the years to come.
In a nutshell, we'll highlight the importance of:
Mobility & Responsive Design

Flat Design's Evolution

Content's Overall Impact

Diverse Content

Quality Over Quantity

Creating a Personalized Experience

Micro-Interactions

Filling in the Gaps with Automation

Destroying the Silos

Real Data Over Vanity
We hope that with some guidance, your journey through the digital world will be less scary and more exciting!
Mobility & Responsive Design
According to a report by Ericsson, 80% of the world's population will be smartphone users over the next 4 years. That's over 6 billion people with the ability to access the web, apps and more right from their phone, no matter where they are. In 2016, there were more consumers browsing the web on their smartphones than desktops, which means you need to start considering your mobile design first and foremost.
For us, mobile always comes before desktop. There's no point in spending all of this time on a website that looks great on desktop and like crap on mobile. Just think of how you search for information when you're on your phone versus desktop. A responsive design requires more thought on the overall user experience. How are you providing your visitors with the information they're looking for in the easiest and fastest way possible? Is your page loading at the mercy of large files and encumbered with complicated functionality? The days of pinching and zooming in to read text and navigate is over. You need to put mobile first.
Flat Design's Evolution
Even if you're not familiar with the term, you have definitely encountered a fair share of flat design examples over the last year, and there doesn't seem to be any sign of stopping. Using a minimalist approach and vibrant color schemes, flat design quickly replaced skeuomorphism as the industry standard for all digital design facets. Through the use of simple shading and contrasting colors, flat design has helped users navigate through websites with more ease while creating an immersive experience.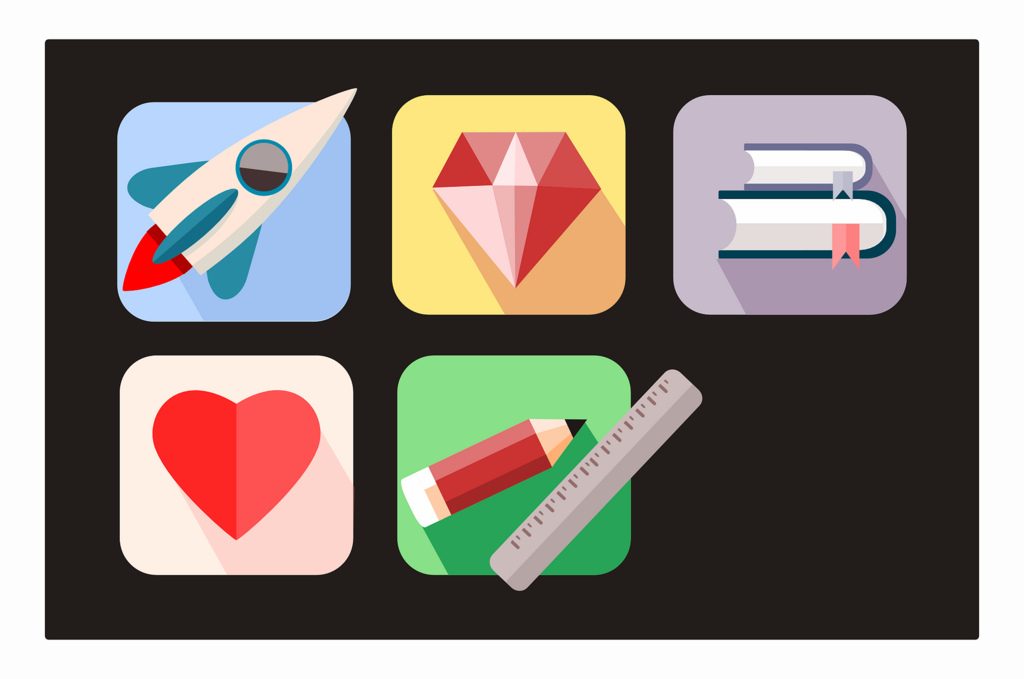 Personally, we've always been fans of flat design. Skeuomorphism always seemed a bit off to us, and the amount of detail they require always came with large image file sizes that would bog loading speeds and overall site performance. By keeping it simple and using a minimalist approach you can flex your creative muscles by creating a flat design that looks great on everything, while also optimizing your site's page speed and efficiency.
As 2017 progresses, be sure to transition your graphics and branding to a simpler look mirroring the characteristics of flat design to help your brand stay relevant and not look outdated!
Content's Impact
It has become pretty simple for anyone to create a website or blog. That said, the web has become congested with people sharing their personal content hoping to go viral. With all of this noise, it can be difficult for brands to get their message out there to the right audience. Still, producing content is better than just ignoring it. Whether you are a startup, a small business or a big brand, you should always be producing content. It's the best method to prove to visitors and potential customers that you are a credible influencer in your industry.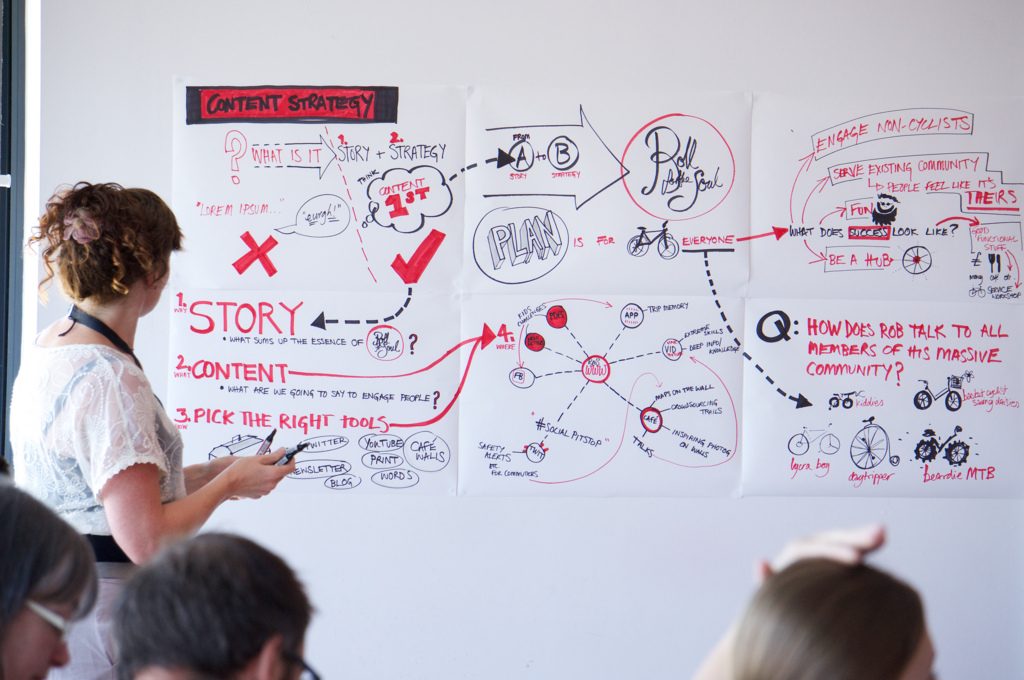 Content is key. Without it, you cannot successfully sustain your business. If anything your site will become stagnant as your competition advances. It's also incredibly difficult for consumers to trust a brand that has no content to support their claims. Consider this, would you trust a surgeon if they couldn't explain to you the process you are about to undergo? The web is no different, if you're offering it, you better have the content to show off your proficiencies. A strong content strategy can also help you scout the landscape much better and understand potential opportunities to improve your overall customer experience. Just ask yourself, with all of the competition out there how will you separate yourself from the rest?
Diverse Content
While content is extremely important to your brand, you can't rely on just a few blog posts each month to pick up traction. As I stated earlier, there is an influx of content being produced every day, every hour so how will you stand out among the rest?
Consider these stats from Contently 
In 60 seconds:
4 million people like Facebook posts

2 million users favorite Instagram

350,000 tweets are pushed

7 Million Snapchats are watched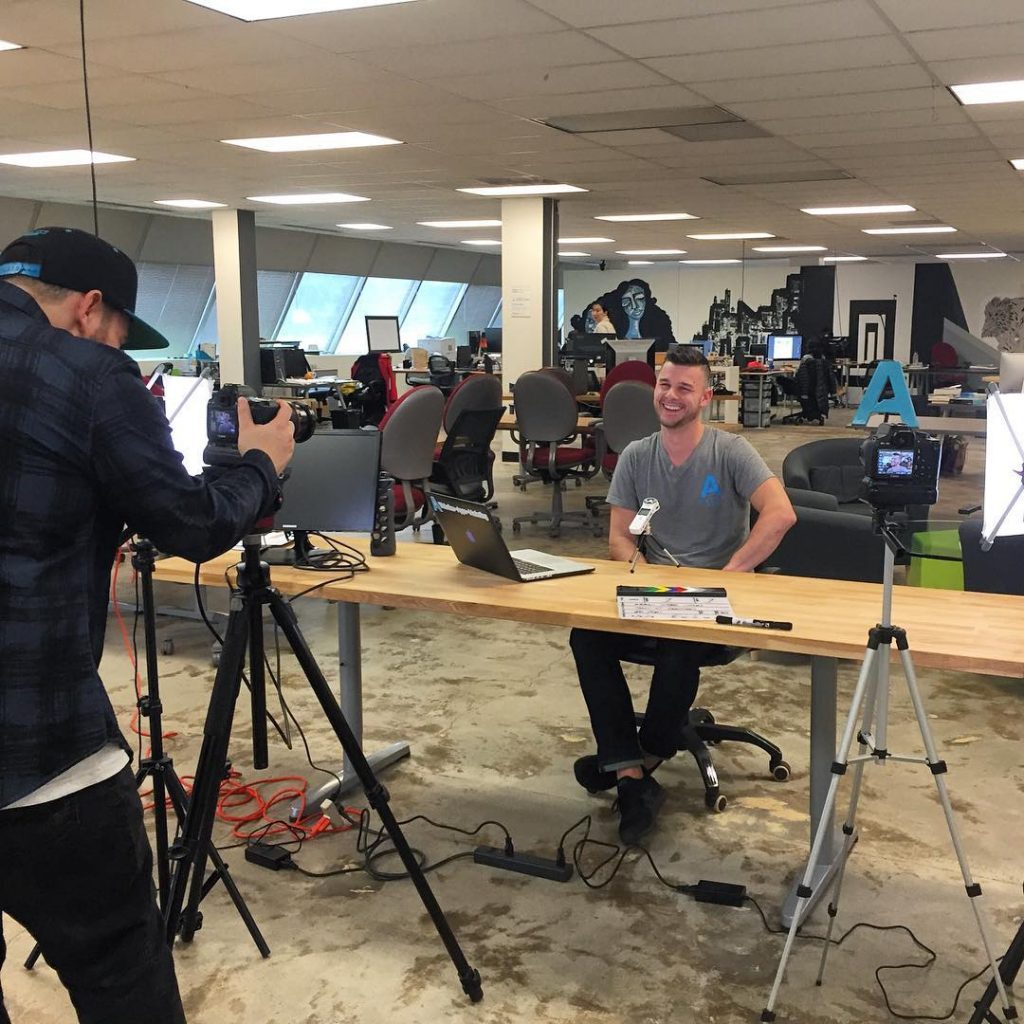 As unfortunate as it is, we've become a generation of headline skimming to absorb our information. Our attention spans struggle to keep us focused on the material in front of us for more than a minute, which requires a new approach to publishing content. There are still those who love to get nerdy and read pages and pages of blogs but to accommodate all of your followers, a diverse format strategy is necessary. Visitors have different methods of engaging with content, and the results of trying new methods can be surprising. If you're going to take the time to produce the content, you may as well do it right. Don't rely on just a blog post to get your voice out there, get diverse and creative with your content formats. Experiment with podcasts, videos, live streams, and webinars to offer your audience more in ways they will love.
Quality Over Quantity
This point and the two above about content go hand in hand. Don't kill yourself to produce content, be realistic. If it takes you a month to script, shoot, edit and post a video, so be it! Don't bite off more than you can chew as you will hurt your brand more than help it. When you have a consistent posting schedule consumers can look forward to new posts and information. If you start out the gate with a post a week and are not able to sustain it, it can reduce the amount of trust they have in your brand.
Whenever we're planning out our posts or engaging with others we ask ourselves, how does this provide value to others? If we can't answer the question easily, we go back to the drawing board. Your followers aren't sheeple, they all have different views and beliefs. More importantly, they all know the difference between real content and click bait. Constantly churning out content that's just 'meh' is the fastest way to tarnish your credibility. You may get an influx of visitors in the beginning, but that won't last long. They'll grow tired of your antics and stop visiting or sharing. You can quickly go from an influencer to a spammer in that sense. Quality should translate to all aspects, including your designs, social engagement, customer service and more.
Creating a Personalized Experience
One aspect of the web that has become extremely important in the last few years is the overall user and customer experience. With the competition congesting your industry, an effective method to standing out is to offer more out of the overall experience a consumer has with your brand. This broadly covers everything from your website's overall page flow, making information easy to find, and more. Make each visitor or customer feel special from the attention and personalization of the website to offer an experience they will surely share with their peers.
Throughout this post, we've discussed how it is important to differentiate yourself from the competition. If there is one top web trend to follow from this post, it's improving your overall customer experience. We all want to be treated with the attention we feel we deserve, and we all want to feel special when visiting a website. Ask a peer to navigate through your site or sales process and get their feedback on the overall experience. Was it warm and inviting or static and cold? If it's the latter, your main goal for 2017 should be to improve your customer experience. Consider your audience and their needs. What are they looking for? How can you provide them with the information and assets they need? Is it easy to find through your navigation and website?
Micro-Interactions
As we mentioned earlier, we've become an impatient generation. We no longer want to just see a page loading bar against a blank white screen. Another one of the top web trends from 2016 was micro-interactions. Micro-interactions (which are interactions within an interaction) play a role in personalizing the overall experience for every visitor, giving them a way to stay engaged with your content or website rather than them getting bored or anxious and leaving the page.

We may be in the digital realm, but nothing grinds our gears more than clicking a link and just seeing a stark white page as everything begins to load. It's the fastest way for us to close out the window and go to someone else's site. If you are noticing page drop offs, bounce rates, and other discouraging stats, consider adding some micro-interactions to your site or app. Visitors love to discover these and sometimes will go out of their way to show others because of how much they enjoyed the overall experience. If you're looking for some examples of micro-interactions, just look at your Facebook feed. When you see a post from a friend, you can do a whole lot more than just like or comment on the post. They've created a set of 'reactions' to offer an emotional connection with a post which brings a new level of experience to interacting with your friends.
Filling in the Gaps with Automation
Now I know you're probably feeling a bit overwhelmed after reading all of the points we've addressed so far, it's a lot of work! How do you keep track of all of your efforts, post daily, engage constantly and so on and so forth? By automating certain aspects of your work, you can keep your day running smoothly. There are a ton of great assets and resources for you to use out there, from content curators and post scheduling tools to chatbots and more. Many of these have a set it and forget type method, giving you the opportunity to focus on what you need to, while checking in when you can.
For now, automation is helpful, but always keep in mind the human-to-human aspects to interaction. Even if you are using a chatbot to acknowledge and resolve certain issues, don't let that be the final destination. Always add a bit of human factor to everything you do, so you can keep your brand genuine and stand out amongst the competition.
Destroying the Silos
Another trend that has been gaining momentum over the last few years is taking a more seamless approach. Traditionally, we would push out certain types of content on specific platforms, forcing consumers to traverse through the digital landscape from one social profile to website or another. Now, to provide a better user experience, there needs to be a seamless approach to all of your efforts.
There's nothing worse than launching a campaign that is not in line with your other departments. It can make you look extremely unprofessional and affect your credibility. By taking the time to understand your brand's overall initiatives and how each of your departments are involved, you can create an approach that encompasses all aspects. In the end, it helps you create an overall better brand experience through consistency and consumer-driven messaging, which can be a great asset when trying to differentiate yourself from the competition.
Real Data Over Vanity
If you're monitoring your analytics and social data, keep the following in mind. Forget 'vanity' metrics like page visits, likes, followers, and shares. Likes don't pay the bills, conversions do. Take a deeper dive into your real data, and understand how your visitors are behaving. Look at the time spent on pages, bounce rates, and overall visitor flow. By using real data to improve your site or social presence you can do much more than just fish for likes and shares.
We always knew that likes and shares would only get you so far. There's no ROI on vanity metrics alone. Real data also makes it much easier for board buy-in by showing them the true key performance indicators and a return on investment. If there's one thing to really consider in 2017, it's how you are utilizing the data you have been collecting to improve your brand's overall efforts and performance.
To Sum it Up
While we covered a lot of ground there's still so much to talk about! We can go on for days about each of these trends. Ultimately all of these top web trends translate into one core message. Digital transformation is key. It's a sink or swim situation. If you're not addressing these points above it's going to be hard for you to stay competitive with all of the other brands. Consider how you can use what you have as a foundation and build off of it. Think about your core messaging and what you want to provide to your clients. Whatever you do, don't let these trends scare you away from the web. Always keep it simple and go for what you can manage. The rest will start to fall into place once you've created a plan. Good luck!